Commercial Solar Power Systems Northern Ireland | Solar Installation
Commercial Solar Systems – A Smart Investment for Your Business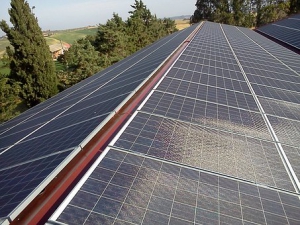 One of the major cost-driven factors that businesses are facing today is – Energy bills. The rising energy costs are directly affecting their profit margin. With energy prices rising and commercial solar systems price falling, there is no better time than now for going solar.
At The Solar house NI, we are passionate about providing Northern Irish businesses with the right commercial solar systems that seamlessly work with the existing power supply. With extensive experience and knowledge, we are able to deliver our clients with the innovative and cost-efficient commercial solar systems in province
Is Commercial Solar System Right for My Business?
If you have a large roof space, you can definitely enjoy the benefits of installing commercial solar power systems. We at The Solar House Ni offer a wide range of solar products to cater to the businesses of all sizes. Our team can visit you for a site audit and will tailor the solar system that caters to your exact requirements. It offers:
Greater ROI (tax deductible and reclaim your vat)
Immediate cost reduction
Minimises carbon footprint
Savings on energy bills
We will also offer you a free assessment of your commercial property based on your energy consumption, roof space and orientation and interval data. Depending on these factors, we will calculate the optimum commercial solar system size for your business.
Why Engage The Solar House NI For Your Commercial Solar System?
Leading independent solar retailer
MCS accredited panels and inverters
25 years' efficiency warranty on solar panels
Over 15 years' experience
Financial options available (via third party)
From taking approvals to installation, utility connection and O&M, we will provide you with the complete project management. Our installers have installed solar systems for homes, offices, schools, SMEs, factories, farms, shopping centres, etc.
What Commercial Solar Power Systems Solution offers?
High Investment Returns
Reduce operating costs
Lock-in energy costs for years
Electricity costs to rise by up to 40% in the next 10 years
Decrease your carbon footprint
Savings made Simple
Site Audit
Our Engineering Team tailor a solar power system that suites to your requirements.
Proposal analysis and Review the project details with you
Our team will manage the project from begin to end, including installation, utility connection and O&M.
Sites that can benefit from commercial solar power systems
Nurseries
Schools
Offices
Small Businesses
Factories
Farms
Fuel stations
Shopping complexes
Clubs …….
Ready to Get Started?
If you are looking to avoid rising energy bills, reduce your carbon footprint or take control over power bills of your business, then give us a call at 07759998343 or 02891472801
Or Email sales@thesolarhouseni.co.uk
Reach us to get a custom designed FREE solar quote. We can help you find a solution that best suits.